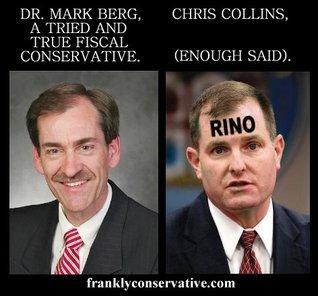 Note: As the editor of Frankly Conservative, I was attacked by name on a centrist Virginia Republican blog for promoting a write-in vote for Mark Berg, so that means we got it right.

Potts' Puppet
(Printed under the title "A Beholden Man?" in the Winchester Star 11-2-2015.
We all become guilty by association through willful collaboration with others, and the legitimacy of the adage, "a man is known by the company he keeps" is etched in stone. Should one seek public office, he's not only guilty by association when accepting sizeable sums from others, he's beholden to them. Big money comes with strings attached – return favors are expected.
Such was the romance of "Republican" Chris Collins, since invitations cautiously distributed to select attendees for a June fundraiser stated:
"Please join Former Senator Russ Potts for a reception honoring Chris Collins for Virginia Delegate District 29" and become a "Gold Sponsor for $500.00", with all content "Authorized by Chris Collins". Oddly enough, the Collins for Delegate Internet and Facebook pages list fundraisers and endorsements on his behalf by other political figures, but not so of Potts' event.
Here's what "Republican" Collins seeks to bury:
"I have deep misgivings about [Mark Berg's opponent, Chris Collins] – who was endorsed by the ultra-liberal Russ Potts. The last time he ran, former Senator Potts promised that if reelected, he would be 'the most pro-life Senator in Virginia.' But once he won, he was such a venomous opponent of life that he received a national abortion-rights award. Potts fought to raise taxes, elect Democrats, kill conservative legislation and advance the liberal agenda . . . Anyone who sides with Russ Potts might as well go all-in and just vote Democrat."
– Republican Senator Dick Black, 13th District
To support Sen. Black's unvarnished assessment is this short list of Potts' peccadilloes:
2003: "Republican" Potts asked Democrats to vote for him in the GOP primary *, proclaimed himself the conservatives' "worst nightmare", and called conservatives "Johnnies-come-lately obsessed with abortion". Even with Dems supporting him, Potts won by only 106 votes.
2005: While still serving as a "Republican" Senator, Potts ran for Governor as an "Independent Republican", because he said the GOP was "out of line" with his thinking. This resulted in his GOP Senate colleagues asking him to resign his five committee seats, which Potts refused to do. (His abysmal gubernatorial bid ended by garnering 2.2 percent of the vote.)
2007: Potts realized he couldn't survive another primary challenge and announced his retirement. As part of his Swan Song, Potts effectively endorsed Democrat Karen Schultz as his replacement by stating she was "very capable and very articulate". By comparison, Potts portrayed then-Senate GOP candidate, Jill Holtzman Vogel as "too conservative", because she opposed abortion, which – according to Potts – placed her "to the right of Attila the Hun".
As a result, the Winchester Republican Committee revoked Potts' membership and pressured him to resign from the Senate. Potts refused and then defiantly endorsed Democrat Sen. Charles J. Colgan of Prince William, and Democrat John Miller's bid for the Tidewater area.
2008: Potts hosted a press conference and fundraiser at his Winchester home for former Democrat Gov. Mark Warner's bid for the U.S. Senate.
2009: Potts formally endorsed Democrat Creigh Deeds for Governor.
2013: Potts held a press conference in Winchester's Rouss City Hall to proclaim "I love Virginia so much", and as such, he was hosting a fundraiser at his home for Democrat gubernatorial candidate, Terry McAuliffe.
2014: Potts held another fundraiser at his home for Dem. U.S. Sen. Mark Warner's reelection.
2015: History repeated itself when Potts hosted that fundraiser for "Republican" Collins, and according to a March 30 Star article, Collins emulated Potts' 2003 campaign by asking Democrats to vote for him in the GOP primary (see *). Steph Vaughan, the Winchester-Frederick County Democrat Committees' Chairwoman boasted she was "so glad my Dems voted for Chris Collins" in that squeaker decided by only 166 votes.
Déjà vu, anyone?
(Asides: Since the Winchester Republican Committee ejected Potts in 2007, but its 2015 chairman, Beau Correll supported Collins, Beau deserves a special "guilt by association with Potts award".)
To ice the cake, during the last three years Collins served on the Frederick County Board of Supervisors, he helped bloat the county budget from $318 million to $367 million. While the current county debt stands at $167 million, it costs taxpayers $15 million per year to service.
That's a taste of Collins' tax-and-spend record as applied to us little people who'll pay for it, but in an interview with WHAG TV, Collins bragged that during his stint on the board, it brought "$400 million worth of investments into businesses". That helped us little people, because?
As Sen. Black said:
"Anyone who sides with Russ Potts might as well go all-in and just vote Democrat",
so unless we desire to renew Potts' tax-and-spend influence in Richmond, we dare not send his bought and paid for "Republican" clone to the House of Delegates.
If enough of us select the box beneath Collins' name that will say "write-in" and use the voting screen key pad to type "Mark J. Berg", we'll keep our proven anti-tax/anti-spend 29th District Republican Delegate. Please join me on Election Day to help send Potts and his not-so "Republican" puppet packing, and no – they won't thank you, but your checkbook will.
---