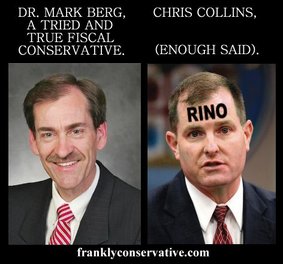 Posted 5/30/2015
Op ed published in the Winchester Star 6/1/2015

Dr. No, or Dr. Know?Unfortunate are the consequences when "Republicans In Name Only" (RINOs) rise to power, and another seeks a seat in Virginia's General Assembly.
Re-examining Virginia's messy ObamaCare Medicaid expansion battle, let's not blame Gov. McAuliffe and Democrats for doing their worst, but rather, those who handed them the opportunity. Fairly noted, not all Republicans in our General Assembly were responsible, but mainly, GOP leaders and their dutiful bootlickers, all for sale at the right price.
Illustrating how Virginia's GOP establishment made McAuliffe's attempt to expand Medicaid possible requires revisiting the "2013 Transportation Bill", when then-Gov. McDonnell asked for $2.4 billion for its funding. Lacking Democrat support, it failed in its first round, so GOP House Speaker, William Howell appointed our previous twenty-ninth District Delegate, Beverly Sherwood to head a committee entrusted with the sole purpose of soliciting votes.
Howell, a co-patron of that bill, instructed Sherwood to add lard aplenty to sway members of both parties, and told her not to worry: Even if her District's voters found out, her seat was secure after eighteen years without a serious campaign challenge. When Mrs. Sherwood finished buying votes with taxpayer dollars, the $2.4 billion requested for transportation funding bloated to $6.1 billion, and was passed with bipartisan support.
Revolting as it was, the $3.7 billion in pork was unrelated to transportation, was more than the original amount requested, and that $6.1 billion became the largest tax increase in Virginia's history. And now, the horrifying part. To get Democrat votes, Sherwood dangled a big carrot, the opportunity to expand Medicaid, and hidden in that "Transportation Bill" was this passage: "
The Department of Medical Assistance Services shall have authority to amend the State Plans for Medical Assistance under Titles XIX and XXI of the Social Security Act, and any waivers thereof, to implement requirements of the federal Patient Protection and Affordable Care Act".
Much to Sherwood's dismay, her GOP primary challenger, Dr. Mark Berg read the bill, and spread the word: All those mailers boasting that "Del. Sherwood fought against the ObamaCare expansion in Virginia" then carried less weight, as did those mailed by The Virginia Hospital & Healthcare Association (VHHA) urging voters to "keep Republican Del. Sherwood on the job".
Deceptively named, VHHA doesn't represent Virginia's healthcare industry as a whole, and runs a Political Action Committee called HosPac. According to their website at that time, their primary goal was to implement ObamaCare's Medicaid expansion in Virginia, and according to the
Virginia Public Access Project, Mrs. Sherwood accepted $20,532 from VHHA
.
This unfortunate history lesson highlights an old saying: "If you do what you've always done, you'll get what you've always gotten", and we should be thankful for Dr. Berg's fresh approach in Richmond. Lobbyists who've grown accustomed to parlaying favors with sizeable donations (bribes) gave up on Dr. Berg, and the GOP pork-barrel establishment despises him, because they can't buy him, and lard-bearers from both parties call him "Dr. No".
Wearing that moniker as a badge of honor while reviewing every bill prior to voting (1,861 in 2014 alone), "Dr. No" realizes that the devil's in the details. Having said that, let's address the controversial anti-child pornography and exploitation bill (of which Dr. Berg's was the sole "Nay" vote), and why many legislators regretted following the herd.
Democrat Attorney General Mark Herring already had the authority to obtain internet service provider records of suspected pedophiles without their knowledge via court ordered search warrants, but this new bill paves new avenues for Herring to abuse power. GOP legislators too late realized their folly, for now he can secretly obtain records on anyone without a court's review – including law abiding citizens – which violates The U.S. Constitution's Fourth Amendment regarding searches and seizures without warrants.
Would Herring abuse this power, a man who ordered that illegal aliens receive in-state college tuition at taxpayer expense, refused to enforce Virginia's Constitutional ban against same-sex marriage, issued a written brief giving law enforcement officials cover to release illegal aliens before feds assumed custody, and rolled back restrictions on abortion providers? You bet.
Dr. Berg's GOP primary challenger Chris Collins wrongly claims that this bill made it easier to bring pedophiles to justice, and publically criticized Dr. Berg for his sole vote against it. Collins' pretense oozes hypocrisy, for he's a local criminal defense attorney who protects and defends our area's worst reprobates from prosecution, including accused murderers
and
pedophiles. (See The Star's 5/9/2015 page A1 story, "Judge sends murder cases to grand jury", and 5/27/2015, page B2, "Man to serve 1 year on (child) porn charge", both represented by "attorney Christopher Collins".)
Lining up to support Mr. Collins is the local tax-and-spend GOP establishment, including the Frederick County Board of Supervisors, on which Mr. Collins served until February this year. But before leaving, he joined his fellow members in increasing County spending by $12.4 million more than last year, and saddling taxpayers with $15.1 million in school debt.
City Commissioner of Revenue Ann Burkholder criticized Dr. Berg at a Winchester Republican Committee gathering and questioned his proposal that State Police wear body cameras: "If he's completely anti-tax, who's paying for that?"
Rather than immediately assume the solution must be raising taxes, perhaps Tax Commissioner Burkholder might first consider Dr. Berg's prescription, and Ronald Reagan's wisdom: "The problem is not that people are taxed too little, the problem is that government spends too much", and that's why I'm voting in the June 9 primary for Dr. Berg.
---