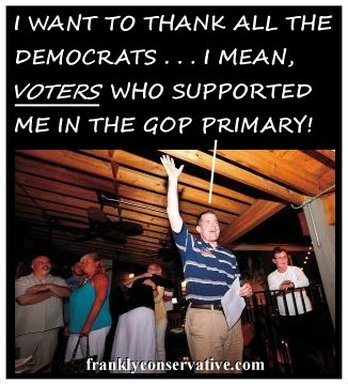 Published as an op-ed in the Winchester Star 7/3/2015

'Hello, Pot, I'm Kettle . . .'
By Franklin Fogle
Why it's time for some conservative voter retribution in Virginia


"He didn't seek advice from us, so he's uncommunicative," they said. "He voted to deny insurance coverage to autistic children," they said. "His vote sheltered pedophiles from prosecution," they said. Such reasons were plied to accuse Dr. Mark Berg of legislative malfeasance, but allow me to suggest that a good man was imprudently indicted for exhibiting the rare political trait of keeping his campaign promises.
All-encompassing is this: Dr. Berg's anti-tax/anti-spend platform resonated with us little people, but it frightened local officials, including the Frederick County Board of Supervisors, and even Winchester's commissioner of the revenue. Heavy-hitters from the Frederick County and Winchester Republican committees likewise panicked, and all aforementioned entities united to oust Dr. Berg for the sole purpose of installing a "yes man" in Richmond to bring home the bacon —
to them
.
Much to the dishonor of our local GOP establishment that supported Mr. Collins (who publicly invited Democrats to vote for him in the GOP primary), bare reasoning suggests the Republican base did not decide this outcome; 515 additional voters supported Berg than in 2013 (a 33 percent increase), so it's improbable in this race decided by 166 votes of 4,343 cast that 3.8 percent didn't come from "elsewhere."
---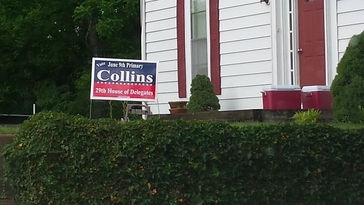 "Elsewhere" is a polite euphemism when something this blatant appeared on
Mr. Collins' Facebook page
: "Chris, as you know, I'm [Bill Dodson] the former chair of the Frederick Democrats . . . do you need a volunteer for the June 9 primary election? . . . I can work the polls at Aylor, Bass Hoover or Sherando." (
Also, see image on right.
)
Even with this type of "elsewhere" support, and endorsements from every member of the Board of Supervisors, Collins widely lost Frederick and Warren counties. Still, voters in the "elsewhere" stronghold of Winchester chose Collins 903-517. So the city has a delegate; the counties do not.
Scheming to remove Dr. Berg began immediately after the GOP primary in 2013 when he ousted Del. Beverly Sherwood, who was chiefly responsible for Virginia's $6.1 billion 2013 transportation bill — the biggest tax increase in state history — containing $3.7 billion in pork. Wasteful spending was her undoing, and although Dr. Berg eked out a narrow victory, it was nonetheless one for fiscal sanity.
Abruptly severed was the county and city officials' cozy relationship with Mrs. Sherwood, which allowed them a personal pipeline of influence to Richmond, so an anxious Frederick board invited Dr. Berg for a private meeting. Rather than accept their request, Dr. Berg held public meetings with the everybodies, but not one single somebody from the board attended any of Berg's six town halls.
Regardless, the board's ire was raised, for they are the somebodies who were snubbed by a nobody, and conveniently enough, Christopher Collins left the board this February to announce his candidacy for delegate. He pontificated that, because Dr. Berg ignored him and his fellow somebodies, "Del. Berg is uncommunicative, and that's a problem, ladies and gentlemen." And so the smears began.
Then came the gutter crawl — maligning Dr. Berg's record with abject falsehoods, combined with smutty mail-out fliers — "Paid for and authorized by Collins for Delegate" featuring photos of teary-eyed children: "Mark Berg won't protect abused children . . . Del. Berg is dangerous for Virginia's children . . . he was championing the privacy rights of sex offenders," etc.
"Sour grapes," they say? No, a telling of events with a heavy heart, for if this election portends our area's future politicking, it's a sad realization which bodes ill for us little people. The local somebodies in the GOP establishment preferred backing Collins' tax-and-spend record over Dr. Berg, who kept his promises to fight wasteful spending, because he never forgot us.
Our voices were silenced, for the days of Sherwood's somebodies have returned, where the nobodies' only pipeline to Richmond is a siphon hose with a tax-and-spend delegate sucking on the other end: Before leaving the Frederick board, Collins joined fellow members in saddling taxpayers with $15.1 million in school debt, and increased county spending $12.4 million more than last year, so we can expect more of the same from him as a delegate.
If Dr. Berg still has a sense of humor after being slandered politically, attacked personally, and dragged through the mud relentlessly by shameless opportunists, perhaps he'd laugh, if only briefly, at the free-for-all currently taking place within the Winchester Republican Committee, the majority of whom supported Collins.
At the center of this mêlée is Beau Correll, the city GOP chair who secretly appointed a search committee to name the GOP candidate for city commonwealth's attorney, and they (surprisingly?) chose him. Other members of the committee cried "Foul!" — and who could blame them, for this does carry the distinct taint of cronyism. But the nominee will be chosen in a party canvass where ID is required, and a contract signed to support the winning Republican — a process designed to disallow Democrat voters.
That process was decided by Correll's tie-breaking vote as chairman, because he's running for city prosecutor in that canvass and doesn't want Democrats voting. So here's the punch line: Mr. Correll joined Collins and his staunchest supporters June 9 at the Piccadilly Public House to await the results in a Republican election Collins invited Democrats to vote in.
Winchester nobodies might take heed
.
---