---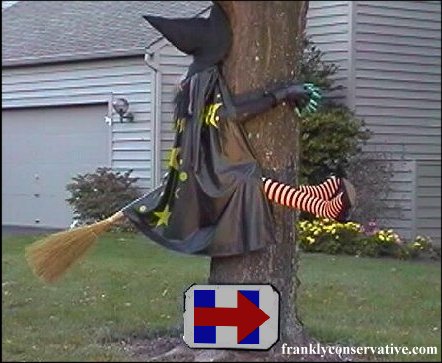 Posted 10-29-2016Upside-down Cake (For many conservatives, remaining anti-Hillary is the best alternative to being pro-Trump)
Once again, the presidential election cycle has befallen us crestfallen Americans who –– sensing that our country is doomed –– will rush to the polls and perform our civic duty by choosing the candidate best suited to finish it off. Ne'er in my memory did an election feel so contentious, and adding to the usual Democrat vs. Republican mêlée is such uncompromising intraparty acrimony between otherwise longstanding friends who will never speak again –– and that's friends within the same parties.
Finding myself joining the likes of those seeking to 'have their cake and eat it, too', I find no compelling reasons to apathetically endorse Trump when a clearer path presents itself; A conservative's realistic option is to remain staunchly 'anti-Hillary' while acknowledging that she would appoint perhaps four U.S. Supreme Court Justices, and whatever Democrats couldn't then legislate in Congress, they'd successfully litigate in our highest court.
Even if conservatives cannot stomach voting for Trump, voting for Hillary is voting to remove the First and Second Amendments, force every healthcare facility to offer abortions upon demand, continue flooding our county with illegal aliens, and to preserve and expand the job-killing economy-crushing program derogatorily referred to as "ObamaCare". (Okay, that should prove at a minimum that I understand why "elections have consequences".)
But here's a nugget of info before going further; I've been dragged through coals by Trump supporters for merely saying we should have chosen a more 'electable' Republican candidate; Being snubbed by several friends raised my trepidation that I'm afloat in that ship of eternally scorned (and damned?) conservative souls who viewed Trump as more flamboyant and less qualified than one deserving of becoming the GOP's presidential nominee.
Even if those Trump supporters never speak to me again, whether they like it or not, my concerns remain soundly rooted in logic:
The Clinton campaign held the same opinion, and thanks to WikiLeaks, it's been discovered that Brent J. Budowsky, a former congressional staffer and current liberal blogger put his forebodings in terminology to chief Democrat strategist, John Podesta:
"Right now I am petrified that Hillary is almost totally dependent on Republicans nominating Trump . . . she has huge endemic political weaknesses that she would be wise to rectify . . .
even a clown like Ted Cruz would be an even money bet to beat and this scares the hell of out me.
"
Fairly enough, Ted Cruz wasn't perfect, but he was my third choice of candidates (first-to-last were Ben Carson, Carly Fiorina, and then Cruz, and only because Cruz was the last viable candidate standing against Trump), and I've even been accused of being one of "Cruz's sore losers", which isn't the case.
Rather, it's just as I'd pointed out long before the GOP primaries; This race was (and still is) the Republicans' race to lose, and Donald Trump is a vastly flawed candidate
.
"Never Trump" conservatives maintain that this neoconservative who switched parties every 5.8 years (
from the GOP, to the Independence Party, to the Democrat Party, to the Reform Party, and back to the GOP
) is nothing more than a showman seeking attention. Many Christians scoffed at his claim that "Nobody reads the Bible more than me", (but he couldn't quote one Biblical verse when asked), and in lieu of tithing, Trump donated
a miserly thirteen thousandths of one percent (.00013) of his income to charity
.
On the other hand, some Evangelicals –– despite Trump's sordid past and smutty mouth –– have told me that "He's the only one who can save us", and because I won't emphatically endorse him, a few piously threatened me with fire and brimstone. One informed me that "God will punish you if you don't support Trump", and another unconditionally pontificated;
"Either you're with the Angels, or you're with Her"
. (Assuming the latter person meant that Hillary is Satan, that implies I'm in league with the Devil, so please excuse me . . . I'll be right back after donning my asbestos suit.)
Regarding those "Never Hillary" liberals maintaining that she stole her party's nomination: A June 14th
Bloomberg Politics national poll
of likely voters found that of Sanders' supporters, only 55 percent will vote for Clinton, 22 percent will vote for Trump, and 18 percent favor Libertarian Gary Johnson. Don't forget the Clinton corruption factor, of which feminist provocateur Camille Paglia commented:
"It remains baffling how anyone would think that Hillary Clinton is our party's best chance. She has more sooty baggage than a 90-car freight train"
.
Even while 'The Clinton Corruption Choo-Choo' raced along at breakneck speed spewing gritty cinders and leaving a sooty oily residue in its wake,
Hillary was caught red handed cheating in the Democrat debate; That batch of hacked emails revealed that Clinton knew –– nearly word-for-word –– what some of the moderators' questioning would be for at least two debates, but Sanders did not:
On March 12, Donna Brazile — who at the time was DNC vice chair and a CNN and ABC contributor — wrote Clinton Communications Director Jennifer Palmieri an email that "From time to time, I get the questions in advance", and here's how Brazile framed that information:
"According to the National Coalition to Abolish the Death Penalty, since 1973, 156 people have been on death row and later set free. Since 1976, 1,414 people have been executed in the U.S. That's 11% of Americans who were sentenced to die, but later exonerated and freed. Should Ohio and the 30 other states join the current list and abolish the death penalty?"
And here's how that question was asked on March 13 at a Town Hall Democrat debate with Clinton and Sanders, and to ice the cake, it was specifically directed at Hillary:
"Secretary Clinton, since 1976, we have executed 1,414 people in this country. Since 1973, 156 who were convicted have been exonerated from the death row . . . I would like to know how can you still take your stance on the death penalty in light of what we know right now."
And it gets even better; Talk show host Steve Harvey provided Hillary Clinton's campaign with the exact questions he would ask of Clinton during a February interview, according to an internal campaign memo sent a week before the interview and obtained by the
Washington Free Beacon
: "The questions touched on Clinton's granddaughter, her preference for deep dish or thin crust pizza, her campaign's "great start," efforts to bridge America's racial divide, and her support for gun control policies. According to the memo, Clinton's staff saw Harvey's show as an effective and low-risk way to reach out to female and African American voters. They also noted recent episodes of the show that focused on issues that Clinton had stressed during her campaign. Clinton's staff pitched the show on some of those issues, including gun control, and noted that Harvey would not likely force Clinton to go into detail defending her positions."
Oh, but it gets better: Those
"Wikileaks Emails Reveal DNC's Plan to Undermine Sanders Campaign"
, and revealed that
"top party officials at the Democratic National Committee privately planned to undermine Bernie Sanders' presidential campaign and colluded on a pro-Clinton narrative"
.
Oh, but it gets better: Those leaked emails reveal that the mainstream media
colluded with the Clinton campaign to destroy Sanders
, and only proved what common sense told us long ago; No less than
65 mainstream "reporters"
happily, willfully, and knowingly churned out
propaganda
for the Clinton campaign and endeavored to bury its scandals — and no wonder; Lopsided
tripe and balogna
is demanded by the CEO's of liberal news outlets, where "reporters" have become paid 'prestitutes'.
Leaked emails obtained by
The Intercept
, reveal an exceptionally warm relationship between the Clinton campaign and the mainstream press, including "off-the-record dinners with the key national reporters" to feeding pre-written propaganda pieces to "friendly" journalists.
Okay, I'm bordering on redundancy, but here's my point: Hillary is a bigger liar than her husband, and she resorted to cheating to win the Democrat nomination and perhaps even the presidency. Even if conservatives cannot bring themselves to vote for Trump, voting for Hillary is an even bigger mistake, and for those who've told me that "Not voting for Trump is the same as voting for Hillary", here's a basic math lesson:
0 + 0 does not equal 1.
See you at the polls.
---