---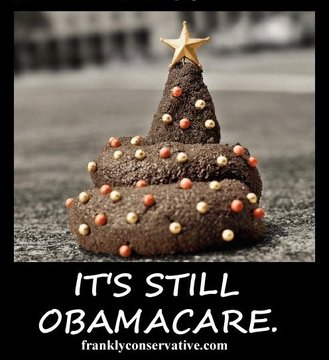 Posted 10-02-2016
(Shortened version published in The Winchester Star 10-5-16.)

ObamaCare: Lies, damned lies, and statistics
The result of three years of failed turd polishing.
"Unfortunately, Republicans in Congress are trying their utmost to escape the reality that ObamaCare is a smashing success."
––
Senate Minority Leader Harry Reid (D-Nev.), 4-25-15
.
British Prime Minister Benjamin Disraeli might be credited for first saying "There are three kinds of lies: Lies, damned lies, and statistics", and readers familiar with my enmity toward ObamaCare might construe that I'm about to call Senator Reid a damned liar. Under normal circumstances, yes, but bless his shriveled heart, he exhibited brutal honesty.
You see, the accuracy of Reid's statement hinges not on what he falsely promised before ObamaCare was passed in 2010, but how he and other ACA architects envisioned its true purpose: Much akin to weapon designers calculating destructive power in loss-of-life, ObamaCare was scripted to wipe out millions of private healthcare policies, and when contrasted in that vein, ObamaCare was –– as Reid boasted –– "a smashing success".
In 2013,
Reid stated on PBS' Nevada Week in Review
that we must "work our way past" insurance based healthcare: "What we've done with ObamaCare is have a step in the right direction, but we're far from having something that's going to work forever". Panelist Steve Sebelius asked if ObamaCare was designed to force America to abandon private health insurance, to which Reid answered: "Yes, yes. Absolutely, yes."
Reid explained that some Democrat legislators had preferred "a public option", and others "a single-payer system", but lacking enough support to pass either, they settled on ObamaCare to perform their dirty work. Likewise expressing disgust for employer backed healthcare plans, Reid predicted that Congress would eventually end the insurance-based system altogether.
That was two years after voters punished Democrats for passing ObamaCare by returning the House to the GOP, and one year before voters stripped Reid of his Senate majority. But despite losing congressional control, the Democrats' "public option" and "single-payer system" loom closer to reality than ever.
As outlined in a CNBC Aug. 17 commentary titled
"Aetna's Obamacare pullout means the 'insurance death spiral' has arrived"
, the nation's fourth-largest health insurer will stop offering plans on ObamaCare exchanges in all but four states due to $300 million per year in losses.
America's largest insurer, UnitedHealth
[anticipating $500 million in losses this year]
will offer plans in only three states, down from 34 this year. Humana will offer plans in 88 percent fewer counties next year, and insurers that haven't left ObamaCare's exchanges requested premium hikes averaging 24 percent, Georgians face a 65 percent increase, and 600,000 Texans enrolled in Blue Cross/Blue Shield face a 59 percent increase:
"That's why President Obama has called for a public option –– a government insurance company that would compete against private insurers on the exchanges. This public option would supposedly succeed where private insurers failed . . .
Hillary Clinton promises that she'll create such a public option if elected
" . . . Initially, a public option would be just another money-losing government boondoggle. But it could quickly transform into something far worse — a de facto single-payer healthcare system . . . Private insurance companies wouldn't be able to compete. They'd be driven out of the market. And that would leave the government as the sole provider of health plans."
Obama craves a public option to push ObamaCare closer to its intended grand finale: The implementation of a government controlled single-payer national healthcare system, which puts us hairsbreadths away from full-blown socialized medicine. As Reid explained in 2013, that was the idea all along, as did Sen. Kirsten Gillibrand (D-NY) who likewise told ABC's Martha Raddatz in 2013 that
"we (Democrats) all knew"
ObamaCare would wipe out millions of policies.
So much for Obama's "If you like your plan, you can keep it", which
PolitiFact dubbed "2013's Lie of the Year
" –– an intentional whopper so colossal that
speechwriters who coined the phrase laughed hysterically about it this year on PBS' Charlie Rose Show
. And regarding Sen. Gillibrand's admission to Martha Raddatz:
Will Raddatz as
co-moderator of the second presidential debate
ask Hillary to chart the wisdom in promising to implement a post-ObamaCare "public option" controlled by another government agency? After
sixteen of twenty-three ObamaCare co-ops (70 %) have closed since they opened merely three years ago
?
In 2008,
Obama repeatedly said his healthcare plan would reduce the typical family's annual premiums by up to $2,500 per year
. But according to Investors' Business Daily, average family annual
premiums climbed $4,865 since 2008, and "the White House cheered the news, saying it was a sign of continued slow growth in premium costs
".
There are three kinds of lies . . .
In the spirit of full disclosure, this commentary is not an endorsement of any presidential candidate, but an endeavor to lay culpability for ObamaCare on relevant doorsteps. As such, while campaigning Jan. 21 in Iowa, an apparently distressed Hillary Clinton accused Obama of plagiarism and intellectual theft: "
It was called HillaryCare before it was called ObamaCare. I don't want to start over.
"
If she's so willing to take credit for that program, where's the harm? After all, this is her last viable shot at the White House, so on Election Day, let's give her full credit for that excremental maelstrom known as ObamaCare.
---