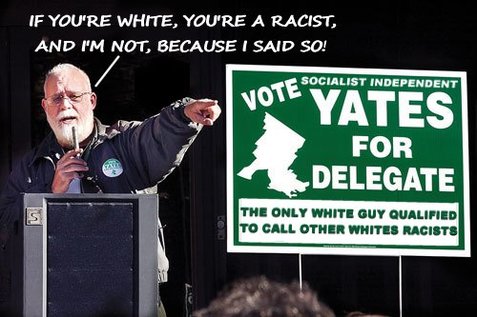 Commentary published in The Winchester Star, Jan. 2, 2016.
By Franklin Fogle
On 'One city, two shootings'.
When black-on-black murders occur five-times more often than white-on-white murders, Larry Yates calls whites "racists" for noticing.
With every rereading of the Dec. 15 Open Forum commentary by Larry Yates, it became increasingly difficult to accept, for it produced a puzzling enigma. A white Mr. Yates accused The Star's editor of expounding "gross and racist falsehoods," and we're supposed to believe that Mr. Yates isn't a racist (because he says so), and is therefore qualified to accuse others.
Accusations of racism are easy to make, but nearly impossible to disprove, and Mr. Yates knows this all too well. However, putting things in proper perspective comes through quoting The Star's Dec. 4 opinion ("One city, two shootings") in its unedited entirety, which Mr. Yates mocked, and going from there:
"While it is difficult to justify the 16 bullets pumped into Chicago teenager Laquan McDonald, it must be noted that, as corrupt as the Windy City may be, only seven people — or 10 less than last year — have died at the hands of its police officers in 2015. This indicates, if nothing else, just how rare these deaths are, even in a city as sprawling and violent as Chicago."On the other hand, the city — primarily, its South Side precincts — has been scene to no less than 450 murders, mostly black on black, committed by young black men. One of those slain was Tyshawn Lee, 9, lured from a park near his grandma's home into an alley, where he was shot three times by local gang-bangers, allegedly because his father belonged to a rival gang. Police found his beloved basketball next to his body."Yet it was that rare death, that of Laquan McDonald, that prompted paroxysms of protest along Chicago's 'Magnificent Mile' on Black Friday. Tyshawn, though, is nothing but a statistic — no community outpouring of tears for him. He was just a faceless little boy, in a city benumbed by violence."
Unfortunately, Mr. Yates' caustic response was far more lengthy (894 words), so its entirety cannot be included, but here's its vinegary essence:
"But why was The Star even bothered with this faraway child enough to falsify his story? Unsurprisingly, the crocodile tears of The Star flowed for a black child only in order to use that child's situation to attack his black community. The editorial's sales pitch was the offensive right-wing claim that the black community gets outraged about police killings of black people, but ignores the murders of black people by civilian criminals. This is a disgusting libel . . .

"The editorial also referred to 'black-on-black' murders, as if people killing others like them were some special black thing. Of course, both the much more common 'white-on-white' murders and the far less common 'black-on-black' murders are just the same ancient story of humans killing other humans they know . . . Today's Winchester Star is the racist Harry Flood Byrd Sr.'s legacy to our community."
Mr. Yates' charge of racism was not embraced by John Feehery in his article printed Nov. 30 by The Hill (a publication so left-leaning that it lists portside), which echoes The Star's opinion:
"The (Laquan) McDonald/(Tyshawn) Lee incidents have darkened the mood of my beloved Chicago. Instead of leading protests to stop gang-bangers from murdering 9-year-olds, Jesse Jackson decided to try to shut down the Magnificent Mile during its busiest shopping days of the year to protest the McDonald shooting."
At this juncture, let's ask ourselves this: If an epidemic was killing five-times more blacks than whites, would that demand everyone's attention? Please read on, because it is.
FBI murder statistics from
www.fbi.gov
for 2014 tell us that, of 3,021 "white murders," 82 percent were committed by whites. Of 2,451 "black or African American murders," 90 percent were committed by blacks. In addition, blacks murdered whites at more than twice the rate that whites murdered blacks: 446 to 187.
Moreover, Mr. Yates' proclamation that black-on-black murders are far less common than white-on white murders is flawed. White-on-white murders (2,488) outnumbered black-on-black murders (2,204), but the difference of 284 does not make them "much more common," especially when considering this:
According to the U.S. Census, our approximately 319 million population is 77.4 percent "white alone," and 13.2 percent "black or African American alone," and using those aforesaid FBI murder statistics reveals this: Per capita, blacks commit murder six times more frequently than whites, black-on-black murders occur five-times more often than white-on-white murders, and blacks have a five-times higher chance of being murder victims.
A sad eye-opener, but Mr. Yates pontificated further:
"Why did The Star work so hard to mislead us? Because right-wing elite leaders like The Star's leadership fear the effective, growing movement, Black Lives Matter, as a threat to divide-and-conquer."
The Star did not "mislead," but rather expressed heartfelt sympathy for the loss of innocent lives through pointless violence, while decrying the lack of general public interest. Only grandstanders akin to Mr. Yates could deem that racism, and perhaps he should quote statistics — not hearsay — if he wishes to continue championing "Black Lives Matter."
---