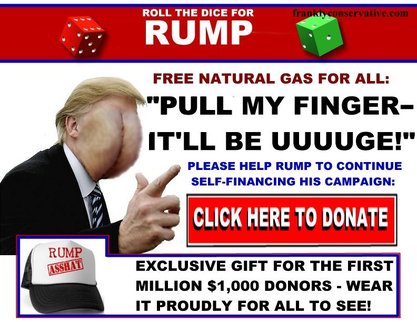 Published
Feb. 29, 2016 (leap day), in the Winchester Star
Nothing changed everything
A few reasons why voting for Donald Trump would betray the conservative movement
Once again, the presidential election cycle has befallen us crestfallen Americans who — sensing that our country is doomed — will again perform our civic duty by choosing the candidate best suited to finish it off. Making for great non-reality TV, presidential aspirants pad their résumés while slandering those of others, and in the GOP New Hampshire primary, a billionaire convinced a plurality of voters that he would "make America great again."
With so many poised to embrace Donald Trump's voluminous platitudes, perhaps they might wisely reflect upon his past persona rather than his present: One day after winning New Hampshire, he said: "I will be changing very rapidly. I'm capable of changing to anything I want to change to."
"Hope and Change" springs first to mind, for Trump stated on Sean Hannity's Fox TV show in 2011: "I was his (Obama's) biggest cheerleader." Memorable are three key policies President Obama supported — bank bailouts, auto bailouts, and the stimulus (Trump supported all three) — and of course, ObamaCare, but Trump claims he's "been against ObamaCare since Day One."
Then again, maybe he wanted something else: Trump was asked during the first debate Aug. 6: "You were for a single-payer system, a Canadian-style system. Why were you for that then and why aren't you for it now?" After sidling around the barn, Trump replied: "As far as single-payer, it works in Canada. It works incredibly well in Scotland." More recently at a Feb. 18 town hall in South Carolina, Trump told CNN's Anderson Cooper that he "liked" the ObamaCare mandate.
Don't forget the religious Trump, who professes Christian values whilst spewing profanity. Consider his propensity toward trading in multiple wives for newer models, in addition to — in his own words — cheating on his wives with some of "the top women of the world." (Sounds akin to Bill Clinton's escapades, but sex = babies, so perhaps that's why Trump was videotaped saying: "I am pro-choice in every respect.")
Would a President Trump likewise cheat 320 million Americans he doesn't know? Consider how he cheats friends: Sportswriter Rick Reilly played golf with Trump who — according to Reilly — earned "an 11 on a 10-point cheating scale." Mark Mulvoy, managing editor for Sports Illustrated in the mid-'90s, played Trump who stealthily plucked his ball from the weeds, then dropped it beside the pin. Rock star Alice Cooper was asked to name the biggest celebrity golf cheat he's ever played, to which he answered: "I played with Donald Trump one time."
Trump excelled in destroying families by exploiting gambling addictions in his sleazy casinos, and those who became penniless will find no consolation in this morsel: The "Christian" Trump donated a measly .00013 percent of his income to charity, yet he bestowed big bucks upon the Clinton Foundation, Hillary's Senate campaign, Nancy Pelosi, Harry Reid, up-Chuck Schumer, et al. According to OpenSecrets.org, "The largest recipient [of Trump's political donations] has been the Democratic Senatorial Campaign Committee."
His compassion for the little guy (and eminent domain) is heartwarming: The widow, Vera Coking, refused to sell her boardinghouse to Trump so he could level it for casino parking, so his goons removed her fire escape, dropped cinderblocks through her roof, broke windows, and set it afire. Despite having her building partly destroyed, Coking defiantly held out, so Trump joined with the New Jersey Casino Authority to evoke eminent domain by declaring her property "a tremendous blight on Atlantic City."
Trump adores veterans, too: "They're walking all over the streets of New York, all over the streets of every city, without arms, without legs, and worse than that. And I would take care of them . . . see, I love them." Some years back, Trump's loathing for veterans who earned honest livings as licensed street venders was exposed in a letter he sent to then-Mayor Michael Bloomberg: "The image of New York will suffer . . . I hope you can stop this very deplorable situation before it's too late."
Another Trump anti-veteran letter went to a New York General Assembly member: "Do we allow Fifth Avenue, one of the world's finest and most luxurious shopping districts, to be turned into an outdoor flea market, clogging and seriously downgrading the area?" ("See, I love them.")
And, on average, Trump switched parties every 5.8 years since 1987 – from the GOP, to the Independence Party, to the Democratic Party, to the Reform Party, and now back again, because Trump's a showman who loves attention: Without Congress' approval (which he won't receive) he can't repeal ObamaCare, deport 12 million illegals, build a wall, or abolish tax laws. In other words, just like Obama, Trump's promises mean nothing, but for his supporters, nothing changed everything.
Is Trump stoppable? Absolutely, but the "how" must be accepted, albeit with heavy hearts, by Bush, Kasich, and even us Carson supporters who — according to Reuters at the time of this writing — amount to approximately 30 percent of the conservative electorate. Adding our support to either Ted Cruz's 15 percent or Marco Rubio's 13 percent throws Trump's 38 percent into negative territory.
For those of us who aren't totally supportive of Rubio or Cruz, we must support them, even if it hurts, for abandoning our ideals is the only way to stop Trump: America's gone too far past the tipping point to allow him to win the nomination and lose to Hillary, or worse. Please join me at the polls to perform the obvious task before us — prove Trump the "loser" he calls everyone else.
---