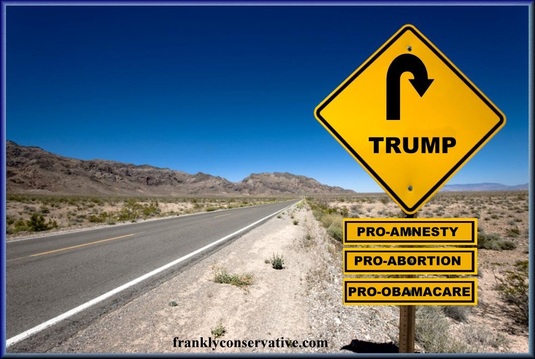 Published
April 1, 2016 in The Winchester Star
(
Click here to read previous opinions from the Archives
)

Selectivity on Trump
His supporters are hearing what they want to hear, and disregarding the rest.
We've all heard them — tiny voices oft-described as the whisperings of angels and imps hovering near our ears. One entity combines morals with plentiful doses of life's experiences and consequences, whereas the other woos by manipulating unhealthy human emotions. Regrettably, emotions hold unfair advantages during exasperating circumstances, and having acknowledged that, I'm not a Trump supporter, but understand his ascent:
Ex-House Speaker John Boehner promised in 2009 that if House control was returned to the GOP, they'd repeal Obamacare. Voters wrenched control from Democrats in historic proportions, and 64 new GOP seats in 2010 gave Boehner a whopping 242-193 majority.
Prior to the 2014 midterm election, then-Senate Minority Leader Mitch McConnell avowed if he were reelected and voters returned Senate control to the GOP, "the best interests of the country would be achieved by pulling out Obamacare, root and branch." Voters handed McConnell, now majority leader, a 54-46 GOP Senate.
During that same 2014 election, Boehner's House majority increased to 247-188, and he later pledged: "The House will soon take action aimed at stopping the president's unilateral action when it comes to immigration. ... I said we'd fight it tooth and nail when we had two majorities in the House and Senate, and I meant it."
Reality has set in: Boehner and McConnell lied and took, then offered no concerted effort to stop Obamacare or illegal-alien amnesty. Combined with a lust for vengeance, voter frustration evolved into rage directed at the GOP's old guard, which — as I see it — explains Trump's ascent.
At this juncture, I address some of my conservative friends who've snubbed and held me in contempt for my anti-Trump perspective: Perhaps we'll converse again one day, but since you don't presently find that tolerable, please reflect on where you'd stand regarding a liberal presidential candidate who'd made statements such as these:
"You know, it doesn't really matter what [the media] write as long as you've got a young and beautiful piece of a–," and bragged of becoming a serial adulterer by cheating on his multiple wives "with some of the top women of the world." And, "Women, you have to treat 'em like s–t."
"[L]ook at the trouble Bill Clinton got into with something that was totally unimportant. And they tried to impeach him, which was nonsense." (Actually, Clinton was impeached by the U.S. House on two charges, perjury and obstruction of justice.)
"I think it would have been a wonderful thing" if George W. Bush had been impeached, because "Bush got us into this horrible (Iraq) war with lies, by lying, by saying they had weapons of mass destruction, by saying all sorts of things that turned out not to be true."
"Nobody reads the Bible more than me," but obfuscated when asked to name his favorite verse — "I don't want to get into that." And said regarding abortion: "I am pro-choice in every respect," and believes eminent domain is "a wonderful thing."
When asked about the affordability of his proposed universal health care plan: "The government's going to pay for it," and "I love universal coverage." And, "It just seems that the economy does better under the Democrats than the Republicans."
"Laziness is a trait in blacks. Black guys counting my money! I hate it. The only kind of people I want counting my money are short guys that wear yarmulkes every day." And earnestly proposed that our military commit war crimes by killing innocent Arabic civilians in violation of both Hague Conventions' rules of engagement.
Trump is no conservative, but a manipulating huckster utilizing your rage: By adding his voice to those wooing imps saying precisely what millions of voters wanted to hear, just as Boehner and McConnell did, he now exploits the vehemence directed at them.
Supporting Trump won't slake your thirst for retribution: He's bestowed big bucks upon Nancy Pelosi, The Clinton Foundation, Hillary's Senate campaign, Harry Reid, Chuck Schumer, et al, and the largest single beneficiary of his political donations has been the Democratic Senatorial Campaign Committee. Before accepting his pretenses for doing so, please consider this:
Trump has made millions in real estate deals in liberal New York and sleazy gambling casinos operating in deep blue states, and as aforementioned, spent wads of cash padding the coffers of Democrat legislators to assure his success. Now that Trump's allegedly turned his business ventures over to his offspring, he'll not jeopardize his family's empire by battling those same Democrat legislators. (Anyone thinking otherwise might try listening through their other ear.)
However, should Trump win the nomination and defeat Hillary, and keep his whimsical promises to build a wall and make Mexico pay for it, grow the economy 10 percent per year, serve Big Macs to foreign communist dignitaries in lieu of state dinners, and force Nabisco to make Oreos strictly in America, my apologies for being egregiously mistaken will be forthcoming.
But should he win the nomination and lose to Hillary, don't blame principled conservatives who won't vote for this faux conservative and impious heretic by abandoning their moral convictions. Blame yourself for floating him to the surface by abandoning yours.
---