---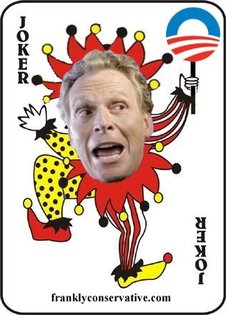 Published
May 3, 2016 in The Winchester Star
Thanks a bunch, Governor (with a large dose of sarcasm)

Virginia's Democrat Governor, Terry McAuliffe, issued a blanket restoration of rights to all convicted felons, so even convicted murders, rapists, child molesters, and kidnappers can serve on juries and vote.
"More than 200,000 convicted felons will be able to cast ballots in the swing state of Virginia in November under a sweeping executive order Gov. Terry McAuliffe announced Friday. The Democrat said restoring the rights of former felons to vote and run for office will help undo the state's long history of trying to prevent African-Americans from fully participating in our democracy."
— Associated Press, April 22
Only sleepwalkers could miss how racist Gov. McAuliffe's premise is, since he solely referred to black felons, and never mentioned whites. So his words lead casual observers to surmise that only blacks commit felonies.
Adding insult to injury, McAuliffe pontificated further: "I want you to have a job. I want you paying taxes, and you can't be a second-class citizen." Again, McAuliffe solely addressed blacks, so according to him, if you're black and unemployed, you're "a second class citizen".
Fortunately for McAuliffe, he's a Democrat, else the outcry would be deafening: Had a Republican used the words "African American" and "second-class citizen" in the same speech, or even on the same day, he'd be eviscerated, castrated, masticated, and perhaps sued for slander. Regardless, we all know what McAuliffe really meant. Or do we?
McAuliffe duplicitously drew parallels between reinstating felons' voting rights and them obtaining gainful employment: Restoration of voting rights does not expunge criminal records, nor prevent prospective employers from inquiring of such and performing criminal background checks. And yet, liberal sycophants in the press and elsewhere drooled profusely rather than corroborate facts, for they're more interested in creating racial divides.
Tram Nguyen, co-executive director of the New Virginia Majority, a progressive activist group, said: "The disenfranchisement of people who have served their sentences was an outdated, discriminatory vestige of our nation's Jim Crow past." And A. E. Dick Howard, a U.Va. legal scholar declared that McAuliffe's deed "buries the last ghost" of the 1902 Virginia convention mandating poll taxes, literacy tests, and convoluted voting registration for blacks.
Someone should inform that deluded duo that Jim Crow laws were written and enacted by Democrat legislatures that controlled Southern states. But should someone casually mention that forfeiting one's voting privileges by committing crimes has nothing to do with Jim Crow laws, which long since don't exist, they'd likely still spew accusations of racism.
Most important, McAuliffe's lackeys cheered when they should have jeered: Our old white Virginia governor misled African Americans into believing he did something expressly to help them, when, in fact, his actions enriched far more whites: As noted by the Federal Bureau of Prisons, America's prison population is 59 percent white, and 37 percent black.
And then again, the following statistical presentation by progressives proves — as far as they're concerned — racism runs amok in Virginia's judicial system: One in four black Virginians lost voting privileges because they were convicted of certain crimes. Throwing in with that notion is a Sept. 2, 2015 Huffington Post article:
"When black people are convicted of a crime, they are more likely to be sentenced to incarceration compared to whites convicted of the same crime . . . blacks were incarcerated for convicted felony offenses 51 percent of the time while whites convicted of felonies were incarcerated 38 percent of the time." Still, the folks at Huffington paint with a broad brush, for their statistics came from only one study performed by the University of Chicago Law School.
That study, titled "Do Judges Vary in Their Treatment of Race?" focused explicitly on "felony cases from Cook County, Ill.," and it's discovered after reviewing those 39 pages that two vital statistic sets are missing: Separately, how many black and white judges are in Cook County, and separately, how many black and white defendants were repeat offenders? Without those fundamental gauges, this study's assertion of judicial racism rings hollow.
Now to my primary concern: What will convicted felons glean from McAuliffe's new fiat? Many refer to voting as a right, but since that "right" can be taken away, it's not a right, after all, but a privilege, and privileges must be earned. And, before felons can regain that privilege, they should first meet all conditions of their probation or parole, which include repayment of all court costs and court-ordered restitution to their victims. Anything less shows a lack of contrition on their part, and an unwillingness to re-enter society as law-abiding citizens.
But that's the way it was, and should still be, until McAuliffe announced that Virginia would no longer require ex-offenders to pay outstanding court costs and fees before they could vote, and he reclassified serious drug crimes to permit them to qualify, and changed the document for requesting reinstatement of citizenship privileges into a one-page form. Many of us who've completed a 1040EZ short form from the IRS had it tougher than felons who'll be requesting the reinstatement of their rights.
McAuliffe seemed so proud as he again invoked Jim Crow: "We have forced these men and women to battle a complicated and bewildering tangle of red tape to reach the voting booth, and too often we still turn them away." And that's precisely what felons of all races learned — not that they'll be held accountable for their actions, nor that they owe society for their indiscretions, but rather that society owes them. Thanks a bunch, Governor.
---