---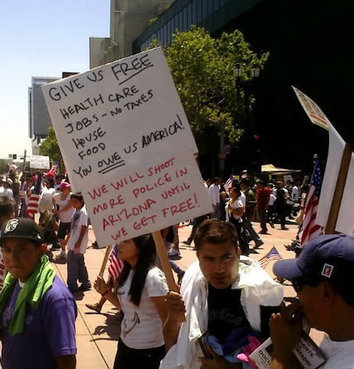 Edited and re-titled by The Winchester Star, Aug. 31, 2016.Originally titled: Do Black Lives (really) Matter to Obama?
Posted Sept. 3, 2016
​
To The Star's editorial page editor, Adrian O'Connor, who's recuperating from surgery –– here's wishing this local luminary a speedy recovery, for the masses perpetually have need of enlightenment. Or as the late Bob Marley said, "Some people feel the rain. Others just get wet."
Speaking of which, "The statistics are actually a little deceptive . . . we've been apprehending folks at the borders and sending them back . . . that's counted as a deportation."
That was Obama soothing irate Latino activists at Yahoo Español by explaining how — under his orders — a border patrol agent merely asking an illegal to leave and taking no further action was counted as a "deportation."
According to data from The Department of Homeland Security (DHS), the U.S. Immigration and Customs Enforcement (ICE) "deported" 409,849 aliens from the U.S. in fiscal year 2012, with only 180,970 from inside our borders.
In 2015, ICE "deported" 235,413 aliens, with only 69,478 from inside our borders, and in 2015, it "deported" nearly 43 percent fewer total aliens than in 2012, and nearly 62 percent fewer from inside our borders.
Surreally, the U.S. Customs and Border Protection (CBP) internet site boasts "Sensitive Location FAQs" regarding places in the U.S. where illegal aliens may congregate "without fear or hesitation" –– places they're exempt from "any action taken by ICE or CBP to apprehend, arrest, interview, or search an individual, or to surveil an individual for enforcement purposes."
Sensitive locations include "public demonstration[s], such as a march, rally, or parade" where illegals may burn American flags and yell obscenities without worries, and it gets better: U.S. Customs and Border Protection provides phone numbers and other information to "lodge a complaint about a particular Department of Homeland Security enforcement action that may have taken place in violation of the sensitive locations policy".
And regarding those impossible-to-locate illegal aliens, Department of Homeland Security has no problems finding those they wish: In response to a Freedom of Information Act request, DHS provided data showing that 80 percent of the 71,000 mostly Central American children placed with sponsors in the U.S. between February 2014 and September 2015 were placed with illegal aliens. By doing so, Obama's administration condoned human trafficking — and conceivably — child slavery and prostitution.
Reported by the Center of Immigration Studies, Obama budgeted $1.3 billion in benefits to 75,000 unaccompanied children expected to cross our borders illegally this year, or $17,613 each, whereas the average Social Security retirement benefit is only $14,772. And for the Refugee and Entrant Assistance Account, which can include illegals from Central America, Guatemala and El Salvador, Obama's FY 2017 requested budget is $2.2 billion.
​Now tell me: Do "Black Lives (really) Matter" to Obama when –– after accepting 95 percent of their votes in 2008 and 93 percent in 2012 –– he returned them to the rear of the bus so a larger potential voting bloc could be seated frontward? When comes that inclement night the bus so overflows with illegal aliens that blacks are left standing on street corners, will they finally "feel the rain", or naively continue standing in the downpour? Time will tell.
---