---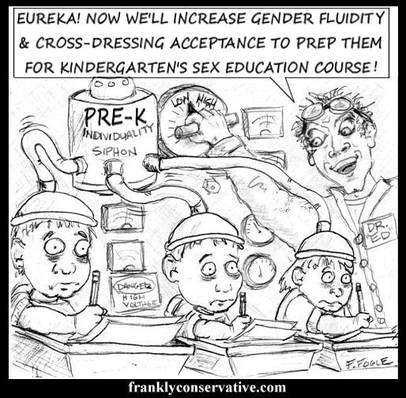 Before proceeding, readers who perceive the rightward cartoon as hateful propaganda might consider these articles:
(1) Chicago Public Schools
mandated in 2013 that kindergarten classes include sex education
.
(2) Newly-minted
K-12 learning standards

released by the Washington Office of Superintendent of Public Instruction
will be implemented statewide for teaching kindergartners to
"Understand that there are many ways to express gender"
(page 29), to accept
"gender expression, gender identity, and gender rolls"
(page 49), and when they become somewhat older,
"Sexual intercourse: Oral, genital, or digital
[finger]
contact with a partner's vagina, penis, or anus; commonly used to describe penetrative/insertive sex"
(page 52)
-----------------------------------------------------------------------------------------------------
This commentary was published in The Winchester Star 12-2-2017.Contrary evidence abounds ... So, please don't drink the pre-K Fool-AidAn open letter to Frederick County supervisors and School Board members:
Perhaps the most egregious argument put forth by public officials is this: Although certain programs unendingly fail their designated purpose, they must be sustained and expanded.
Old grievances against said programs die hard, and this rumination speaks to one such controversial proposal bandied about of late in this Open Forum — the irresponsible mission of those seeking to expand pre-K in Frederick County.
A strong indictment indeed, yet one that's backed by well-constructed evidence from Randomized Controlled Trials (RCTs) that remain the gold standard for scientific researchers to determine successes and failures.
RCTs randomize which test subjects receive services, pills, programs, etc. (the treatment group) and those who don't (the control group), and to prevent biased data collection, RCTs "blind" researchers to who received what.
Per se, as we return to addressing the push to expand pre-K, nobody is asked to take my word for anything.
On May 18, 2015, then-president
Obama released a "Presidential Proclamation" commemorating the 50th anniversary of Project Head Start
, a pre-K program initiated in 1965 as part of Democrat president LBJ's "war on poverty."
Without offering qualifiers, Obama stated that Head Start has been proven to "boost graduation rates, increase earnings, and reduce violent crime. And 3- and 4-year-olds who attend high-quality pre-school –– including Head Start –– are less likely to repeat a grade, less likely to need special education, and more likely to graduate from high school."
Said he who knowingly deceived us about keeping our health care plans, but did he knowing mislead regarding pre-K, too?
Under the auspices of the Department of Health and Human Services overseen by Obama's then-HHS secretary, Kathleen Sebelius, a national RCT of Head Start's pre-K effectiveness evaluated nearly 5,000 3- and 4-year-old children randomly assigned to treatment and control groups.
From page 17 of the HHS report that was released in 2012 three years prior to Obama's Head Start pre-K proclamation:
"[B]y the end of 3rd grade there were very few impacts found . . . The few impacts that were found did not show a clear pattern of favorable or unfavorable impacts for children"
.
If any benefits were created by this $9 billion per year taxpayer-funded program, they were too elusive to document, but could this be a coincidence?
Not likely, for
at the behest of the U.S. Department of Education overseen by Obama's then-Education secretary, Arne Duncan, Vanderbilt University conducted an RCT
of Tennessee's $86 million per year program for 18,000 4-year-olds from pre-K through third grade.
Though the results released in 2015 nearly mirrored those of Head Start's RCT, they shockingly indicated negative pre-K side effects: By kindergarten's end, children who had not attended pre-K caught up, and
pre-K children underperformed control children by the end of second grade, and that continued into third grade
.
Oddly enough, the administration that desired the most to expand pre-K oversaw collection of the best evidence against doing so, and Frederick County supervisors and School Board members might pay heed.
---