---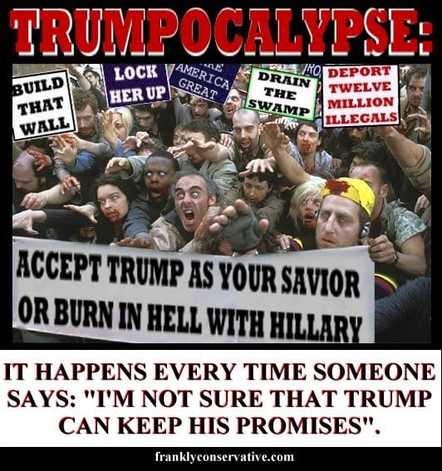 Full version posted here 1 - 1- 2017
(Cropped version titled
"No need for 'Snatching' tools" published in The Winchester Star 1 - 3 - 2016
)
With all due respect to orangutans . . . Some Trump supporters are acting akin to chest thumping primates and risk alienating Independents and Democrat defectors who handed Trump the election.
"History is written by the victors", or so it's oft said, but allow me to suggest that this past election tests that axiom's certainty: Although President Obama twice stood victorious, his legacy lies helpless before Donald John Trump, and we might ask ourselves how maddening this must be for Obama who fancies himself a messiah, i.e.:
"[A] light will shine through that window, a beam of light will come down upon you, you will experience an epiphany ... and you will suddenly realize that you must go to the polls and vote for Obama"
.
–– Barack Obama, Dartmouth College, 2008.
On Election Day Eve, 2016, this 'messiah' seemed destined to become the most consequential president since Ronald Reagan: University of Virginia's Center for Politics predicted Hillary would garner
"322 electoral votes compared to Trump's 216 and that the U.S. Senate will be tied 50-50 with Vice President Tim Kaine serving as its tie breaker"
.
Comparable to granting Obama a third term, Hillary vowed prolongation of his policies (including expansion of his namesake healthcare law), thereby securing him a celebrated place in history as the towering embodiment of twenty-first century progressivism.
So much for that, and with Trump's election and the GOP keeping both Congressional chambers, Obama's legacy remains tentative: Much of his policies reside in executive orders, so one might coyly say: "He whose legacy lived by the pen, died by the pen".
Trump could orchestrate most repeals with meager pen strokes, the remainder with a compliant Congress, and frequently without a filibuster-proof majority. Given that Trump swore to gut the EPA, repeal ObamaCare, disassemble Dodd-Frank, undo the Iranian nuclear deal, etc., Obama's presidency could become an obscure historical footnote.
Now for fidgety bits: Although I supported Republicans other than Donald John in the GOP primaries, I accept him as my president and wish him well. But with all due respect, some gloating Trump supporters might refrain from berating fellow conservatives who –– while questioning the grandiosity of Donald's campaign promises –– prefer the 'trust, but verify' approach.
For instance, Trump himself admitted –– even before taking office –– that his weightiest campaign pledges
were only pillow talk (100 percent repeal of ObamaCare, building a wall at Mexico's expense, putting Hillary in jail, rounding up and deporting 12 million illegal aliens, etc.)
.
And in regard to squelching the influx of illegal aliens, his pick of Andy Puzder for Labor Secretary is immensely worrisome:
Puzder –– head of CKE Restaurants, the parent company of fast-food chains such as Carl's Jr. and Hardee's –– is a huge proponent of flooding America with low skilled illegal alien workers who are duly suited for minimum wage employment at his restaurants. Puzder knows that an abundance of illegals drives wages downward at all levels, and he's
"
among the most prominent advocates of Gang of Eight–style immigration reform in the American business community, and if confirmed he will have the lead role in shaping and executing American labor policy"
.
However, some Trump supporters care not for caution, and are fevorishly waving pompoms whilst declaring premature victory over liberalism –– even before he's taken office. And because I remained a skeptical conservative who suggested the 'trust, but verify' approach regarding his campaign pledges, some Trump supporters who previously called me "friend" now describe me differently:
From various Trump supporters, I've been promised God's wrath, branded as both
a "liberal" and "the enemy of the American people", plus asked if I'd care to leave the U.S. because I wish to control Trump "as Judas tried to control Christ"
. (That's just for starters, but, please . . . the second coming of Trump? That's just wrong.)
Neither cockiness nor maligning scriptures is wise: Trump didn't win in a landslide (
he ranks 46th out of 58 in terms of winning the electoral vote
), nor did he win Virginia, and if not for Democrats defecting 'bigly'
as they did in western Pennsylvania, eastern Iowa, Wisconsin, Michigan, etc.
, the election would have ended differently.
Democrats provided the tide turning votes, which were 'yugely' appreciated, but to believe that Donald John flipped their votes in Rust Belt states is a reckless pretense:
After years of abuse by the Democrat party, Hillary's base voted for Trump in protest
, but to expect those defectors to remain loyal until 2020 is imprudent, and Trump set the bar high:
To appease Rust Belt Democrat defectors, he must bring back millions of manufacturing jobs from China and Mexico as promised, which is no small order. But I dare say that if some swaggering Trump supporters threatens any of those Democrats defectors with fire and brimstone for preferring the 'trust, but verify' approach, they'll ne'er vote Republican again.
And to avoid angering and alienating his principal base ––
which is predominately white, poorly educated, and economically repressed
–– Trump must,
as promised
, roundup and deport 12 million plus illegal aliens, build a wall to keep more out, throw Hillary in prison, and "Make America Great Again".
For cautious conservatives such as myself, well . . . we suspect Trump cannot even come close to keeping those promises, and should that be true, the press will spend four years informing us of his every shortcoming, which is my primary concern:
As is customary, defeat begins with dishonesty, and readers might ponder how many times they heard these following quotes, and their resultant losses of Congress and the White House as they fall in chronological order: "Read my lips: no new taxes." (Bush 41), "I did not have improper sexual relations with that woman, Miss Lewinsky." (Bill Clinton), "We found the weapons of mass destruction." (Bush 43), and "If you like your healthcare plan and doctor, you can keep 'em, period." (Obama).
Although Trump's supporters have myriad reasons for celebration, this is not the appropriate time for acting akin to chest thumping orangutans, but for bringing Democrat defectors under the GOP tent for keeps, and for assuaging cautious conservatives.
One thing's for certain: When either party wins, they act as if they'll never lose, so let's not provide the GOP additional tools for snatching defeat from the jaws of victory. Again.
---