---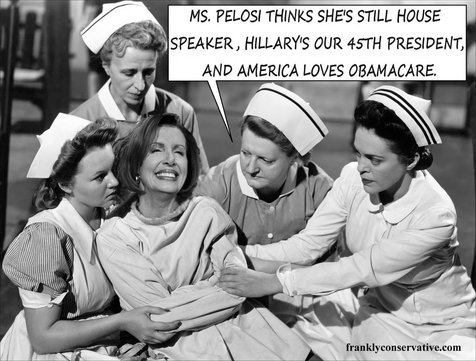 (Edited version titled
"Snake-oil charge"
published in
The Winchester Star, 3 - 2 - 2017
)
Pelosi showed monumental hypocrisy by suggesting that Trump's insane:
We know
she's
loopy, but was Obama diagnosed with severe depression, paranoia and schizophrenia?
Posted 3-2-2017:
"Democrat Gov. Terry McAuliffe is asking Republicans to cut spending to commemorate the 1619 founding of the House of Burgesses at Jamestown,
the arrival of African American slaves to the British colonies
, and other parts of the state's colonial past."
–– Associated Press, February 17
Virginia's GOP isn't "commemorating" slavery with taxpayer cash, and the AP exhibited extraordinary malice by legitimizing that hateful indictment. But as CBS' Face the Nation host John Dickerson stated, attacking media integrity is overkill, since
"
The press did all that good work ruining its reputation on its own
".
In wholesale disrepute after its numerous polls guaranteed Hillary's Presidency, the media ought show contrition rather than flaunting dishonored snake oil merchants:
Forced to retire in 2004 after falsifying G.W. Bush's military service record,
disgraced ex-CBS News Anchor Dan Rather
is again quotable. Demanding that the media deny Trump its traditional "honeymoon period", a sanctimonious Rather obfuscated:
"When I see neo-Nazis raise their hands in terrifying salute, in public, in our nation's capital, I shudder in horror"
.
A demoted and not-so humbled Brian Williams (suspended as NBC's 2015 Nightly News Anchor for "
misrepresenting events
") is again quotable after devoting an
entire segment of his blasé 11:00 p.m. MSNBC show to Trump's alleged lying
.
Nancy "We must pass it to find out what's in it" Pelosi lectured Republicans 5 days before 2016's Presidential Election: "
[M]oving to impeach President Hillary Clinton
for alleged activities from before the election would be a brazen attempt to nullify the vote of the American people". But, that was then:
Rep. Maxine Waters (D-Calif.) recently tweeted that her
"greatest desire was to lead (Trump) right into impeachment"
, and asserted on CNN's Newsroom that "because we are suspicious, (it) leads to the possibility of impeachment". CNN's host was visibly stunned by Water's decree that without any evidence of wrongdoing,
congressional investigations were underway
.
(Waters is the same money-grubbing corruption queen who illegally steered $12 million in taxpayer cash to a bank her husband managed & held stock in, and whose family profited handily from that transaction. This earned her the infamous
"One of the most corrupt members of Congress"
designation by
the watchdog group, Citizens for Responsibility and Ethics in Washington.)
2016's election also presented opportunities for quotable wannabes such as Dr. Stephen Beutler who diagnosed "Trump's bizarre, volatile behavior" as
symptomatic of a syphilis-addled brain
.
Shortly thereafter, Democrats discovered (or rediscovered?) Article 4 of the 25th Amendment to the U.S. Constitution, and in a show if complete hypocrisy,
Nancy Pelosi endorsed mandatory psychiatric evaluations of President Trump
.
Article 4 of the 25th Amendment (in a much abridged description) might –– with two-thirds support of Congress –– place sitting vice presidents in charge by wresting power from mentally incapacitated presidents.
Mentally incapacitated presidents such as Obama?
Mitchell Langbert reported in 2008
that "Obama was treated for mental related illnesses in the 70's and early 80's . . . Schizophrenia is the main reported diagnosis with possible severe depression".
And in 2010, Wayne Madsen reported that an Obama inner circle leaker described a delusional President "
battling severe depression . . . paranoia and schizophrenia
".
Allegedly, Obama's administration officials considered invoking Article 4 of the 25th to save their party, but decided against it, which makes them liable for myriad catastrophes.
Regarding hypocrisy, Pelosi revealed Feb. 6 that she's misplaced 16 years dating back to 2001:
"While it's only been a couple of weeks since the inauguration, we've seen nothing that I can work with President Bush on"
.
Meanwhile, mortified Dems deliberately overlook Article 1, Section 5 concerning expulsion of incompetent House members.
---