---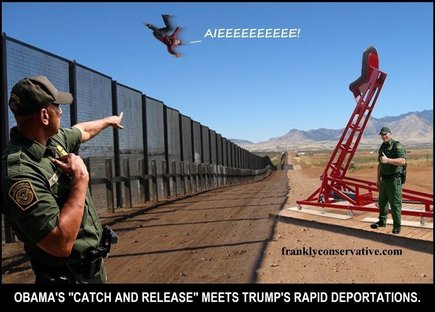 Edited version
published May 2, 2017 in The Winchester Star
titled "Oh, these rose-colored glasses".
Perfunctorily Foolhardy
Liberals think they must play a mandatory and dangerous game by protecting illegal-alien criminals.
"Certainly one sex crime is one too many. But to lay all of these at the feet of illegal immigrants is grossly misleading. Mr. Fogle may want to double-check the credibility of his sources before making such questionable allegations".
––
Charles Uphaus, Apr. 10
Winchester Star Open Forum
As such, another chivalrous liberal galloped forefront to defend Obama's slovenly immigration policies, but whilst attempting to impress via sharpness of wit, he brandished a dull object.
Subterfuges of this ilk are theatrics performed by the foolish, for America's porous borders attract sadistic criminals from cultures that trivialize heinous crimes. But in the interim until cures are enacted, let's pay homage to victims of illegal-alien violence by laying blame on appropriate doorsteps:
A
Government Accountability Office report from March 2011
illustrates what President Obama knew early on: 251,000 criminal aliens –– a fraction of those arrested –– committed 3 million criminal offenses (12 each on average), including homicide, kidnapping, rape, burglary and larceny.
According to a U.S. House Judiciary Committee document, Obama's administration didn't bring removal proceedings against
36,000 convicted criminal aliens awaiting outcomes of deportation hearings in 2013, and another 30,558 in 2014
: They were just set free.
As unveiled by that document, the 36,000 criminals released in 2013 had nearly 88,000 convictions between them, including
193 homicides, 426 sexual assaults, 303 kidnappings, 1,075 aggravated assaults, 1,160 stolen vehicle convictions, 9,187 dangerous drug convictions, and 16,070 drunk or drugged driving convictions
.
ICE records show in the 8 months from Jan. 1 to Aug. 31, 2014, more than 8,100 deportable aliens were released after arrest in approximately 300 local sanctuary jurisdictions:
Three thousand were convicted felons, 62 percent had prior criminal records, and 1,900 were later rearrested 4,300 times for 7,500 various offenses
.
A June 1, 2015 letter from The United States Senate Committee on the Judiciary to "The Honorable Jeh Johnson, Secretary of Homeland Security", et al, reveals that
at least 121 additional homicides "could have been avoided" between 2010 and 2014 if ICE had deported convicted illegal aliens rather than released them
.
April 2015 ICE records showed that
of 904,000 illegal immigrants who ignored deportation orders
, 167,527 were convicted and released criminals, yet "The Honorable Jeh Johnson" wasn't finished:
ICE verified that in 2015 it freed an additional 19,723 criminal aliens with a total of 64,197 convictions between them
, including 8,234 violent offenses, i.e.: 208 homicides, 5,137 assaults, 320 sexual assaults, 216 kidnappings, and 41 arsons.
And yet, even while these unrepentant criminals continue murdering, raping and pillaging, Mr. Uphaus shows obligatory liberal obtuseness by declaring we must "figure out how to make them feel a part of our society. That is the effective way to safety and security".
Most assuredly, the victims of illegal-alien violence –– alive or dead –– wouldn't agree, so we'll again pause at this juncture to allow sensible liberals an opportunity to remove their rose-colored glasses.
P.S.: Since Oct. 1, 2016,
Texas border patrol agents in the Rio Grande sector reported apprehending 99 previously deported sex offenders
, but for what did they return? Exactly.
---