---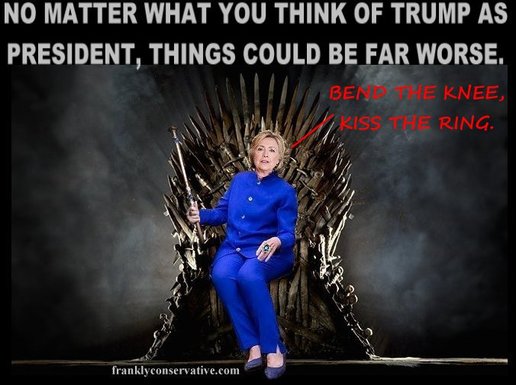 Edited version published in
The Winchester Star June 30, 2017
as "Alternative Universe"
Posted here June 30, 2017
Covfefe: It could be worse, bigly.Whenever we recoil over Trump's childish tweets and peccadilloes, reminders of what could have been makes them easier to shoulder.
Mendacious self-contradictions, inane tweeting, immature hateful rejoinders –– repetitive cringe-worthy incidents unbecoming of the GOP's standard-bearer, all diminishing our Oval Office.
Yet, some night in that surrealistic netherworld between drowsiness and slumber, we might find ourselves slipping into a blackened void of restless unconsciousness, our legs bound by invisible restraints preventing flight from an alternate outcome of Nov. 8, 2016 . . .
Nov. 9, 2016 Associated Press
Breaking story
Jubilant times await liberals: Hillary elected Queen of America, Trump just "a big loser"
Just as The University of Virginia's Center for Politics predicted
, Hillary Clinton garnered 322 electoral votes compared to Donald Trump's 216, and with Republicans losing key congressional races, Vice President Tim Kaine will now serve as the U.S. Senate's 50-50 vote tie-breaker.
Clandestine DNC tactics ranging from
off-the-record dinners with major national reporters to feeding pre-written propaganda pieces to "friendly" journalists
paid off: While elevating Hillary to Sainthood, the mainstream press banished Trump to Hades' sewers where he tweets pledges of U.S. Supreme Court challenges overturning "Crooked Hillary's rigged election."
After consuming three magnums of chardonnay, Hillary signified that she didn't give "a flying [bleep]" about Trump's lawsuits, because she'd expunged Anthony Weiner's criminal record to appoint him as conservative Justice Antonin Scalia's successor.
That barely stacks the Supreme Court 5-4 in the liberals' favor, yet one may still confidently pronounce dead all cases with a Republican stench brought before the court.
Regardless, it could soon be a 6-3 liberal high court with Reagan appointee Anthony Kennedy getting up there (81 years), for he might retire, or something. (Michelle Obama expressed interest in his position should it suddenly become available, and with
histories of Clinton's foes dying unexpectedly
...).
Rumor has it that aging liberal Justices Stephen Breyer (79 years) and Ruth Bader Ginsburg (84 years) will take leave after Hillary promised them successors of Michael Moore and Madonna.
And when U.S. Senate Majority Leader Chuck Schumer, D-N.Y., passes legislation declaring the First Amendment obsolete, America's first Truth Czar –– First Daughter Chelsea –– will regulate all speech: "Our Constitutional framers never imagined such hateful conservative rhetoric, which I'll punish mercilessly under hate crimes legislation."
Disheartened Republicans emblematically vowed to defend the First Amendment, but, hey — we've already covered the futility of litigating conservative causes, and Hillary torpedoed the Second Amendment as well:
"Guns take innocent lives, so my first executive order mandates that Americans relinquish all firearms to be smelted into abortion-related instruments for Planned Parenthood. If you think that's impressive, you'll adore my 'mi casa es su casa' order, which is Spanish for 'my house is your house': There's no longer a Bureau of Immigration and Customs Enforcement, or even any borders."
Not to mention that Huma Abedin was the obvious choice for Secretary of State:
Prior to becoming Hillary's longtime top aide, Huma worked 10 years as assistant editor of the Journal of Muslim Minority Affairs, a radical publication that blamed America for 9/11
.
Senate Majority Leader Schumer gleefully declared that Obamacare will live onward until Queen Clinton enacts her Public Option to finish off private health-care insurers, at which time government single- payer will be implemented ...
---