---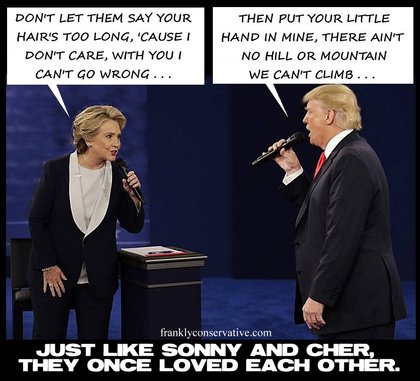 Published in
The Winchester Star August. 1, 2017
Posted here August 4, 2017
Watch for chiggers, poison ivy
and statistics, too, while navigating the Trump-Hillary conundrum
"There are three kinds of lies: lies, damned lies, and statistics."
— Oft-attributed to 19th-century British Prime Minister Benjamin Disraeli
Readers are asked to proceed with minds open whilst perusing this crawl through statistical weeds: It wasn't compiled to support Donald John's comedy of errors that he'll likely christen "The greatest presidential term ever, I will tell you that. Believe me."
Nor was it intended to support Hillary Clinton –– a vastly flawed and twice-failed presidential aspirant who totes around more sooty baggage than a 90-car coal-fired passenger train.
Regardless,
Trump's first 100 days in office saw stock markets reach all-time highs and grow faster than under any president since the 1980s
(New York Times). Plus
millions of well-paying full-time jobs were created to surpass analysts' expectations
(CNBC), unlike the part-time minimum-wage jobs Obama touted.
Still, these are merely numbers, but
the U.S. Bureau of Labor Statistics reported that unemployment sank to 4.3 percent in May, its lowest level in 16 years
.
Simply by noting flattering statistics, some might believe that my conservative shackles of prudence were shed to embrace Trump, but no: Polls such as one from Gallup state that
"Trump['s] Second-Quarter Job Approval Is Much Lower Than Any Other Elected President"
.
Let's not forget the 24/7 Russia-Trump news boregasm, plus
"1 in 8 people [12.5 percent] who voted for Trump want to change their vote"
(Reuters/Ipsos poll), and
"Americans split 42-42 on impeaching Trump"
(USA TODAY/iMediaEthics poll), so one might imagine diarrhea being more popular than the president.
By quoting those statistics, some MAGAs (MakeAmericaGreatAgain) will heatedly accuse me of being a "#Never Trumper," or a Hillary supporter, or simply an enemy of America: I've been accused of all that and more, but those are statistics.
Nevertheless, here's an enigma: Even with Donald John's perpetual negative news coverage, and him allegedly floundering in the polls,
a recent Bloomberg National Poll indicates that Americans now view Hillary less favorably than Trump
. How can that be, since she won the popular vote?
Moreover, the press describes Trump's first months as
"the illusion of a presidency, not the real thing"
(Politico), since he's relegated to signing executive orders while Congress mucks about with Obamacare's replacement.
With all that taken into account, Trump couldn't implement tax cuts or economic policies which might possibly allow him to take credit for the aforementioned Wall Street boom and steady job creations. So, may the economic boom possibly be America's collective sigh of relief because Hillary lost?
And that's my point which took eons to make, but mightn't we question why Hillary's less popular now than Trump, especially with his statistical thrashings?
In my not-so humble opinion, Americans simply prefer one mendacious loudmouth braggart over another who openly favored expanding Obama's eight-year socialist experiment, and then wouldn't shut up after losing.
Or perhaps the proverbial moral rests elsewhere as D.C. legislators are too preoccupied to interfere with businesses and stock markets that create jobs and wealth, but there again are statistics.
---