---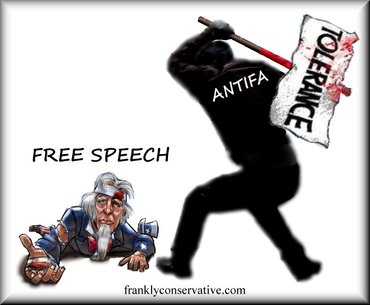 Shortened version published in The Winchester Star 9-5-2017
Unedited version published here 9-5-2017
Too kool for skool
There's more for liberals to worry about than a few Confederate monuments; Democrats are enslaving poor black students in failing public schools by denying them School Choice
President Trump irks Democrats so much that they're destroying Confederate monuments erected by Democrats, and though his musings oft assail the senses, Trump's initial response to the Charlottesville tragedy was appropriate:
"We condemn in the strongest possible terms this egregious display of hatred, bigotry and violence on many sides ― on many sides ... What is vital now is a swift restoration of law and order and the protection of innocent lives"
.
Despite having the permit and constitutional right to assemble, racists from Unite the Right (UtR) deserve no more attention than a three-year old's temper tantrum, yet worldwide audiences looked on, courtesy of the press.
Counter Protesters –– i.e., the antifascists, aka, "antifa" –– did not intend passive resistance by coming armed with bricks and projectiles, nor by toting clubs, pepper spray, and makeshift flamethrowers.
Having neither the permit nor constitutional right to censor free speech, antifa deserved no more attention than UtR, yet worldwide audiences looked on, courtesy of the press.
(Thanks to antifa's multiple attacks on various groups that had legally assembled peacefully, the Dept. of Homeland security labeled this group's activities as
"Domestic Terrorist Violence"
.)
Next comes the person responsible for ordering police to stand idle while bloodletting ensued rather than keep these groups separated, and
under the city's charter
, the only person possessing that authority was Charlottesville
City Manager, Maurice Jones
. As it seems, Mr. Jones had a conceivable axe to grind and wished for the outnumbered UtR racists to receive corporeal comeuppances, which raises this arguable point:
Had these groups not been allowed to clash,
a mentally unhinged James Alex Fields, Jr. would not have driven his car into counter protesters
, and 32-year old Heather Heyer would still be alive.
And no, this neither means I've chosen sides nor boarded "The Trump Train", but simply prefer sincerity over subterfuge; There was an
"egregious display of hatred, bigotry and violence on many sides"
.
Regardless, if we remove all Confederate monuments and banners, does that mean slavery never existed? And if we eradicate slavery's mention from every manuscript, will blacks never again endure subjugation by Democrats?
In a speech to her union's convention,
American Federation of Teachers president Randi Weingarten
snottily called school choice programs "cousins of segregation", when in truth, Democrats such as Weingarten favor segregation.
School choice allows poor families –– often black –– to offer children greater chances for success by moving them from failing de facto segregated public schools into private or charter schools. But akin to
Democrat controlled southern states that outlawed the education of slaves
, modern Dems abhor school choice.
Stanford University's Center for Research on Education Outcomes
reported charter school impact in 41 urban areas, where blacks, Hispanics, Asians, and others in poverty and special programs made considerable gains compared to public schools.
Moreover,
in a Dept. of Education study of Florida
, charter school students outperformed their public school counterparts on state exams 84 percent of the time, retained 54 percent more knowledge from year to year, and 91 percent of charter schools had smaller achievement gaps in math, English and social studies between whites, blacks, and Hispanics.
Despite those numbers, liberals duplicitously seek to remove Confederate monuments while enslaving minorities in failing public schools by denying them suitable educations, so who glorifies slavery more? A tiny and ever dwindling group of irrelevant white supremacists waving Confederate flags, or a vastly larger part of America that votes Democrat?
---