---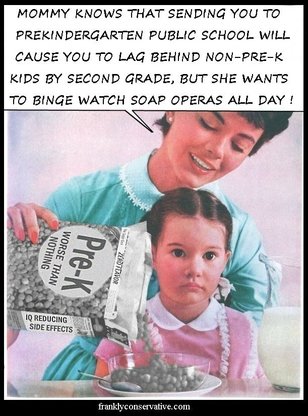 Published Jan. 2, 2018 in
The Winchester Star
under the title "The 'waste' that is pre-K."
Posted here Jan 2, 2018
Don't take my word for it ...
Even child development experts say prekindergarten public education harms four-year-old children.
Another open letter to Frederick County supervisors and School Board members:
"Franklin Fogle's Open Forum (Dec. 2) is representative of opposition research at its finest — that is, cherry-picking 'data' to promote a false narrative. Preschool programs are not wastes of taxpayer dollars, as Mr. Fogle encourages elected officials and the public to believe. There are long-term benefits for participants and taxpayers."
–– Peter J. Vernimb, Ed.D, retired assistant superintendent for instruction for Frederick County Public Schools and affiliate assistant professor of education at Mary Washington University.
As such,
Dr. Vernimb offered his "credentialed" Dec. 9 Open Forum
via misdirection: Never did I collectively belittle "preschool programs," but did solely critique prekindergarten public education and its expansion in Frederick County.
Pre-K public education is a multibillion-dollar taxpayer-funded waste, as firmly evidenced by Randomized Controlled Trials (RCTs), the ultimate benchmarks by which scientific researchers gauge success and failure.
Two such RCTs did I mention, with the first performed under the auspices of the Department of Health and Human Services, directed by Barack Obama's then-HHS Secretary Kathleen Sebelius. Expected to validate Head Start's pre-K merits in boosting academic achievement, the 2012 results were damning for this $9 billion per year program.
From page xvii:
"[B]y the end of 3rd grade there were very few impacts found ... The few impacts that were found did not show a clear pattern of favorable or unfavorable impacts for children."
Though Dr. Vernimb pooh-poohed that research, he agreed that Head Start's benefits "largely dissipated by third grade," but then he overstretched: "The authors observe benefits of Head Start may extend into adulthood. Education, income, job status, and illicit or criminal behavior measures suggest preschool programs positively influence future life choices."
Not exactly. In a closing discussion
on page 151, the authors state, "We do not yet know if there will be positive outcomes for HSIS participants later in life,"
and apart from their core findings, cite conditional data that Dr. Vernimb overemphasized.
Lacking any directly relevant pre-K supportive evidence, the doctor used that dissimilar outdated data to defend Head Start pre-K; to wit:
"Research from non-Head Start samples" of non-pre-K students –– e.g., a "1985-89 Tennessee K-3 Class Size Study."
Simply put, "cherry-picking 'data' to promote a false narrative" and higher county taxes.
Moreover, he didn't address my second cited RCT performed in 2015 by Vanderbilt University at the behest of the U.S. Department of Education, headed by Obama's then-Education Secretary Arne Duncan.
Evaluating Tennessee's $86 million per year pre-K public education program produced findings closely mirroring HHS's 2012 RCT; plus it uncovered negative impacts
for 4-year-olds.
By kindergarten's end,
children who hadn't attended pre-K caught up, pre-K children fell behind non-pre-K children by second grade, and further behind in third
.
But don't take my word for it.
Professor Dale Farran, Ph.D, child development expert, and co-author of Vanderbilt's RCT, stated:
"We haven't found any sustained effects, either in social and emotional development or achievement ... You have school systems that are pushing pre-K ... It makes me cringe."
---