---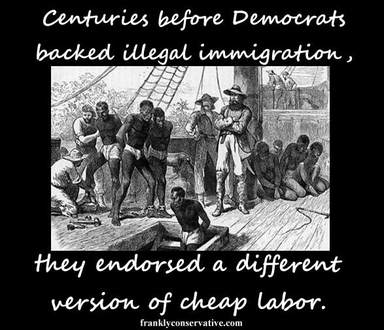 Published Feb. 5, 2018 in
The Winchester Star
.
Via willful dishonesty ...Do Democrats really desire reasoned immigration reform?
Intentionally displeased are liberals who –– while ridiculing America's 'laboratory of democracy' –– sabotage its ceaseless experiments that spawn unparalleled opportunities.
For example, as liberal news' aficionados gazed longingly across the Atlantic for inspiration Jan. 29, The Daily Kos' lead story spoke to "
Trump's white supremacist 'deal' on Dreamers
."
A remarkable interpretation, since the GOP's immigration reform proposal surpassed most Congressional Democrats' demands –– i.e., paths to citizenship for 1.8 million illegal-alien children brought to the U.S.. But it's always
quid pro quo
in D.C., and
asked in return from Democrats was abridged immigration, and $33 billion for increased border security
.
Yet, TDK claimed the Republican plan was "clearly driven by [a] white supremacist ... a cruel, whites-only policy determined to split families and destroy American values as an immigrant nation." (Lacking explanation was how permitting 1.8 million Dreamers to stay with their relations aimed to "split families and destroy American values.")
Worse still, nobody mentioned the eight-hundred-pound gorilla skulking about: How did Dems address illegal-alien issues while holding majorities in both chambers of Congress during G. W. Bush's final midterm, and then in 2009 after adding the Obama White House?
Here's what happened under Harry Reid's then-Democrat Senate majority as reported by
Reuters June 28, 2007
: "Senate kills Bush immigration reform bill ... a plan to legalize an estimated 12 million illegal immigrants, most from Latin America, and to create a temporary worker program."
Most conspicuously, that legislation failed to garner a simple fifty-one vote Democrat majority:
Only 32 Dems voted to advance the bill, 16 voted to block it
.
And, as
Shikha Dalmia writing for The Week
contended, Obama's biggest blunder "was his decision to prioritize a makeover of America's health-care system over an immigration overhaul ... This could have all been avoided if Obama had picked up where former President George W. Bush left off on the issue, when he tried to push a major overhaul in 2007 that would have legalized undocumented immigrants with clean records."
But, did Reid and Obama adhere to some clandestine Democrat commandment to kill illegal-alien legalization? Quite conceivably, since current Senate Minority Leader, Chuck Schumer (D-NY) seems determined to kill reasoned immigration reform as well.
Dems apparently prefer European tailored open border policies over pathways to citizenship, because the first option attracts constant influxes of poor and needy uneducated non-English speaking illegal aliens.
Thus far, Democrats have maintained a permanently impoverished underclass through
this dissolute enterprise which artificially suppresses wages for all
. And, via willful dishonesty, Dems promoted themselves as charitable saviors of the oppressed, when in truth, the Democrat party sustains itself through oppression.
Hence, if illegal aliens could legally assimilate to seek well-paying jobs, pay taxes, become better educated, join the upwardly mobile middle class, and register to vote, guess whom they wouldn't need?
Which tenders both the awkward truth and answer regarding why Dems endorse slipshod border policies in addition to illegal-alien voting initiatives, and why it's stylishly imperative for liberals to accuse conservatives of racism for wanting neither.
---