---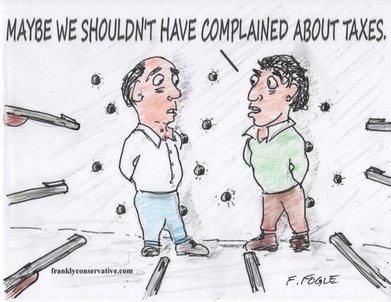 Posted here March 2, 2018
Condensed version published in
The Winchester Star
March 7, 2018
Shooting the messenger:
Public officials who don't understand basic math often accuse taxpayers of lying.
One should admire persons who possess the financial savvy and intestinal fortitude to expose tax-dollar waste, but in contrast, brains and backbone aren't binding requirements for public officials who shoot those messengers.
April 8, 2015:
Frederick County resident Shawn Graber addressed the County Board regarding our burgeoning school debt, which by his calculation was "proposed to be $15.1 million ... a 17 percent increase over two years."
Rather than confirm that fiscal malfeasance, then-board chairman Richard Shickle contemptuously snarled: "I have no idea what you mean ... I'd advise you to check your math." (Bang.)
(VIDEO: Readers can watch Shawn Graber get upbraided by then-county board chairman Richard Shickle at the 4:22 minute mark:
https://youtu.be/uNWv0vCgmcc?t=262
The second taxpayer to receive the same treatment is Ken Hunter at the 18:32 minute mark, and then-chairman Shickle snottily labeled concerned taxpayers "supervisor wannabes":
https://youtu.be/uNWv0vCgmcc?t=1112
)
June 26, 2015:
The Winchester Star reported that newly appointed County Administrator Brenda Garton discovered what Shawn Graber predicted –– $15 million in school debt. Garton informed the School Board: "We certainly don't take these numbers lightly."
July 15, 2015:
Addressing the County Finance Committee, executive director of finance for County Schools Lisa Frye stated that
funding the fourth high school at $93.1 million would raise school debt from $15 million to more than $27 million
. In attendance was Ms. Garton who stated "It's pretty scary," and then obtained permission to counsel the County Board to hire financial consultants.
But Finance Committee chairman Chuck DeHaven (who also doubled as the County Board's vice chairman and would soon become its chairman) retorted: "I'm not interested in revamping our policies and procedures unless [the consultant] has a very compelling reason to do so." (Bang. Does anyone recall if consultants were hired, or to what end?)
June 16, 2017:
After the county board met in closed session to conduct Ms. Garton's annual performance evaluation –– and with Chuck DeHaven as the new board chairman ––
Ms. Garton "resigned
." (Bang? The County Board wouldn't confirm if her "resignation" was voluntary.)
Oct. 27, 2017:
After a spate of reader commentaries in The Star regarding undisciplined county spending, Frederick County Schools' board chairman Dr. John J. Lamanna penned his commentary, "
Facts, not misinformation
." It labeled all allegations "absolutely false" that Frederick County Public Schools (FCPS) spend $15,000 per pupil annually. (Bang.)
Dr. Lamanna offered what he suggested was "the most recent available data" –– Virginia Department of Education's obsolete 2016 estimate of $11,401 –– and avowed "the figure can't be determined by simply dividing the total school budget by the number of students enrolled."
And yet,
FCPS's $200.76 million "School Board Approved Budget"
published for FY-2018 unambiguously states: "
The organizational structure of FCPS is focused on meeting the needs of 13,403 students.
"
Hence, $200.76 million ÷ 13,403 pupils = $14,978 per pupil in FY-2018, and FCPS' new
FY-2019's proposed budget of $211.6 million
covers 13,705 students for $15,440 each.
But ever-increasing spending for education yielded less: Between school years 2011-12 and 2016-17, overall SOL scores dropped 12 points in Reading, 8 in Writing, one in History, and 8 in Science.
Erecting flashy new schools won't remedy that, and regarding our teacher shortage because our educators are fleeing to higher paying school systems, they can't blame their salaries on taxpayers who've already been reamed enough:
For just one overpriced high school, FCPS spent $6 million on blueprints –– enough to give all
1,161 county teachers
a $5,168 bonus.
---