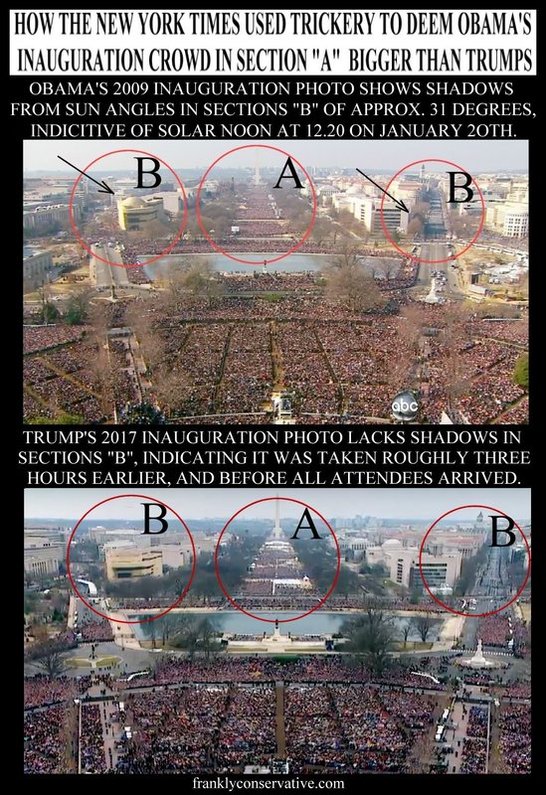 Proving how the Mainstream Media Manipulated Aerial Photography to claim Low Turnout for Trump's Inauguration A franklyconservative exclusive:
We questioned why mainstream news outlets continue using only two aerial photographs of Trump's inauguration as proof that
"fewer people attended President Trump's inauguration than President Obama's in 2009"
. According to NYT, it used pictures
"captured 45 minutes before each oath of office"
, yet presented no proof of that, so we scrutinized two of the same images they used which are just to your right, then added circles and arrows to indicate qualifiers for skepticism.
Before reading further, keep in mind that ––
rain or shine
––
new Presidents are sworn in "at exactly 12:00 noon"
, and a simple visual inspection of said photos raises doubts that both images were taken within 45 minutes of 12:00 noon as was claimed by NYT.
First, we'll concede that the day of Trump's inaugural was overcast, but even on dreary days, large building will still cast shadows at solar noon when the sun is highest in the sky, and with that in mind, note that the shadows cast by buildings differ greatly in both images.
Most pronounced is the upper image of Obama's inaugural where buildings in the rightmost section "B" produce shadows consistent with the sun angle indicated by the directional arrow. However, in the bottom image showing Trump's inaugural, the corresponding area marked "B" contains none of the shadows cast by buildings in the upper picture, which proves that the pictures were taken several hours apart, so somebody is lying about the 45 minute window.
Further evidence of shenanigans is this:
On January 20, the sun's highest point in the sky occurred at 12:20 p.m., or "solar noon", with the sun's highest altitude being 31.2 degrees, which corresponds with the angled arrows in the uppermost image portraying Obama's election
. Conversely, Trump's inaugural pic contain absolutely no shadows indicating that the sun was anywhere close to 31.9 degrees, or solar noon,
which indicates it was taken long before all attendees had the chance to arrive.
What the NYT and other mainstream media pundits contend is that by comparing crowd size in sections "A" of the pics, one can easily determine that Obama's inaugural crowd was vastly larger. But since it's now obvious that both pictures couldn't have been taken within "45 minutes" of 12:00 noon, but rather several hours apart, let's call this what it is:
Fake news
.
---